November 4th, 2020
With all that is going on in the world we are hearing it from patients more and more, "Now is the best time to get braces"! Why? Well for some patients, they feel working and going to school from home is allowing them a greater opportunity to become adjusted. Indeed, we all have a little more flexibility without the rigors of running to and from class, busy meeting schedules and all the extracurricular activities bustling for attention in our daily lives. This affords us the extra time it takes to better care for our braces, brush and floss properly between meals and even have appointments with our favorite orthodontist, Dr. Razdolsky!
"Can you believe we have had a few new patients come in saying it's the perfect time because of the mask?!?," said Dr. Razdolsky. "We have patients come in all the time saying the stigma of braces is hard for them. So, wearing a mask has given some that little boost they need to overcome their apprehension and nervousness about what others will think when they see them wearing braces for the first time," he added.
At Forever Smiles we think working to achieve your Forever Smile is a beautiful thing and if a mask is the catalyst that gets someone started on that path, we're all in!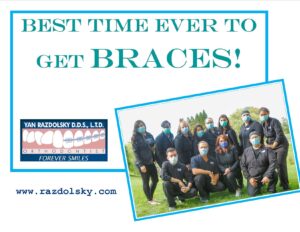 Dr. Razdolsky said he's even had some new patients who have become more aware of little imperfections in their smile since they've been quarantined. Online meetings and classes have certainly put most of us, and our smiles, front and center with everyone we talk to everyday. So for many, the lure of making their smile something they've always wanted or dreamed of starts now. That's why Dr. Razdolsky and the Forever Smiles team always say it's never too early, or too late to set off on the path to your best smile. By getting started with evaluation today, Dr. Razdolsky can help you strategize and develop a customized plan for treatment that's just right for you.
"Whether you experience discomfort such as tooth pain, headaches, earaches, or pain in the jawline, which can be signs or symptoms of malalignment, or you just want that beautiful smile you've always dreamed of, now may just be the best time for you to get braces," said Dr. Razdolsky.
Regardless of your motivation, you always want to be healthy and putting your best smile forward. One evaluation from Dr. Razdolsky can help determine whether braces are right in your unique situation. Remember, getting braces now can make all the difference in putting your best smile forward. Let's get started!