Forever Smiles has been serving the Buffalo Grove community for more than 30 years by consistently delivering state-of-the-art orthodontic care to our patients.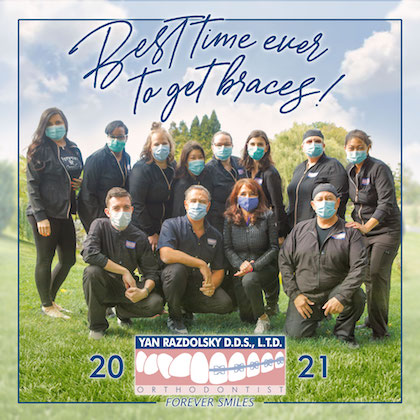 Experience You Can Trust: Dr. Razdolsky is a Diplomate of the American Board of Orthodontics, an honor awarded for a high standard of excellence to less than 20% of orthodontists in the U.S.
State-of-the-Art Technology: We use 3D cone beam technology, which reveals hidden anatomy and discloses important anatomical variations that can't be visualized on traditional panoramic and cephalometric projections. We strongly feel that failure to recognize these key anatomical features may lead to sub-optimum diagnoses, treatment planning, and treatment outcomes. We also strive for improved speed and precision of orthodontic results with the use of robotic technology and memory wires.
Advanced Diagnostics: We provide every new patient to our practice with complete radiology analysis and report by a board-certified oral and maxillofacial radiologist, which includes TMJ, airways, and pathology screening.
Conservative Treatment Approach: We practice evidence-based orthodontics, where every treatment approach is based on solid scientific research by a reputable teaching institution.
In addition, we offer the following services for YOU:
A welcoming, diverse, and accommodating atmosphere – Forever Smiles works with patients of all ages and lifestyles, because everybody deserves to feel confident about their smile.
No charge for the initial consultation
We use the smallest (mini) and the most advanced aesthetic braces available
Porcelain braces, lingual (inside surface of the teeth) braces, Invisalign® aligners, and SureSmile® systems
Virtually no use of headgear
Non-extraction treatment emphasized
Convenient appointment times
Eight languages spoken — our practice is multilingual, with doctor and staff speaking Spanish, Korean, Filipino, Russian, Mandarin, Polish, Romanian, and Bulgarian
Flexible payment plans available
The most up-to-date sterilization practices that exceed OSHA's sterilization requirements
Incentive programs, games, contests, and giveaways
No-fee recall program for all ages to evaluate orthodontic treatment
Community involvement — Dr. Razdolsky and staff conduct educational programs throughout the surrounding communities by hosting field trips in our office and going to schools and youth organizations
Advanced methods for correction of jaw deficiencies
Advanced retention (after braces), which includes two permanent, two night retainers, and one year of follow-up
Preventive (interceptive) screening and, if necessary, appliances at seven years of age or younger to:

Reduce severity and treatment time later
Enhance facial growth and create improved facial balance
Reduce the necessity for extracting permanent teeth