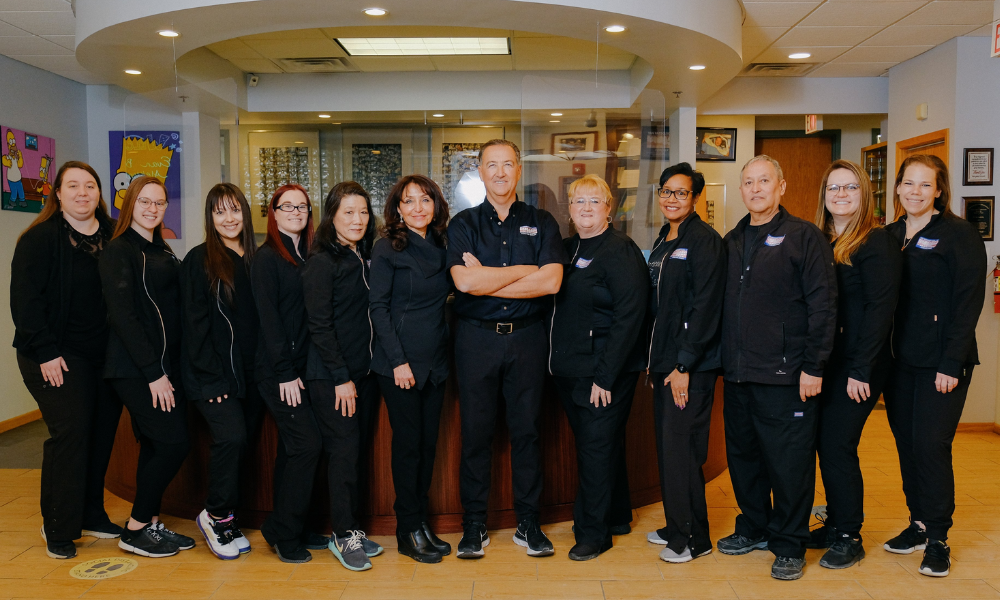 We recognize that all our patients are unique and deserve to receive orthodontic care that reflects their individual needs. Our experienced and talented team is committed to working with you and your family to create a comfortable, stress-free, and rewarding orthodontic experience every time you visit our practice.
We are pleased to welcome you and your family, and we look forward to working with you.
---
Anna Razdolsky
Operational Manager
Most of Anna's work is done behind the scenes. Her duties include overseeing the smooth operation of delivering beautiful smiles, handling the budget, recruiting and training, inspiring our personnel, and of course, keeping the doctor on his toes! Anna's favorite thing about orthodontics is the smiles that are born from the science! What she likes best about working with her husband is his infinite eagerness and passion toward his work, patients, and staff. Anna is always very enthusiastic, and like Dr. Razdolsky, always has a glowing positive attitude, with a "can do" approach. She is proud to be part of a family practice that utilizes and constantly updates its technologies and procedures to stay in the forefront of orthodontic care.
Anna started this practice with her husband, Dr. Razdolsky, in 1985. She has a bachelor's degree in math and computer science from the University of Illinois in Chicago, and started the Master of Engineering and Management program at Northwestern University. Before beginning the practice with her husband, she worked for Baxter Pharmaceutical Corporation in Deerfield, and at RR Donnelly & Sons Printing Company in Chicago. At these positions, she developed her talent for designing computer software and enhanced her marketing and management skills.
Anna played a major role in the global diffusion of the Distraction Osteogenesis technique and the promotion of the Razdolsky Osteodistraction Devices (ROD appliances).
Anna has been honored by the U of I President's Council with an Award as a Lifetime Member. She also received the Parent of the Year Award at Montessori School of Lake Forest for her commitment to school and volunteer work.
She loves kids and is committed to educating everyone about the importance of oral health. That's why she founded Forever Smiles Publishing in 2016 to help children and their parents understand the value of oral care and orthodontic treatment through storytelling.
Anna was born in Ukraine, and has lived in the Chicago area since 1977. During her free time, she enjoys doing volunteer work at schools, supporting sport teams, traveling, reading, dancing, and most importantly, spending time with her family.
To learn more about Anna, click here.
---
Brenda
Treatment Coordinator
I have been working with Dr. Razdolsky's Forever Smiles Team since July 2004 as a treatment coordinator. I left the practice for a brief moment and realized that Forever Smiles is definitely my home away from home. I enjoy meeting and building wonderful relationships with the patients and becoming part of their lives. It is the most rewarding and satisfying position to be able to see smiles being transformed. I love working with Dr. Razdolsky because he is a wonderful educator and is truly passionate and dedicated about his work as an orthodontist, which is reflected in his patients' beautiful smiles.
I have two children, Triston and Lucas. I have been happily married for more than a dozen years to my husband Tracy. In my free time, I love taking road trips with my family. My favorite hobbies are shopping, shopping, and more shopping!
Dr. Gay Suan
Orthodontic Assistant
I have been a part of Dr. Razdolsky's Forever Smiles Team since 1994. I have a Doctorate in Dental Sciences from the University of the East, Philippines, and a master's degree in orthodontics from the University of the Philippines. I love working with Dr. Razdolsky's innovative ideas and being in the forefront of technological advances. It is a joy to see the impact of life transformation given to each patient during and after orthodontic treatment. Orthodontics has always been my first love, going back to my days as an undergraduate. I have been in the field of dentistry since 1987.
In my spare time, I enjoy listening to music and attending broadway shows and crafting, beside spending time with my family and friends. You may not know that I speak Mandarin, Taiwanese dialect, and Filipino.
---
Brenda
Orthodontic Assistant
I have been a part of Dr. Razdolsky's Forever Smiles Team since 1993, and have been in the field of orthodontic for 29 years. I enjoy treating our patients with the best technology and love seeing their enthusiasm and improved smiles after each visit.
I am married with one daughter. Beside my love for orthodontics, I enjoy reading and collecting paper weights and antiques.
---
Patty
Orthodontic Assistant, RDH
As our hygienist and clinical coordinator, I love being a part of a patient's journey to building a beautiful smile. On top of that, I'm amazed by the newest and ever-evolving technology and admire how Dr. Yan is always striving to provide individuals with the most up-to-date treatments.
In my free time, I love spending time with my husband and son.
---
Lucy
Orthodontic Assistant
I have been part of Dr. Razdolsky's Forever Smiles Team since 2009. My favorite thing about orthodontics is our ability to make patients happy by giving them a beautiful smile. Their smiles make me smile. Dr. Razdolsky and his staff give 100 percent to the patients, and I like being a part of that.
You might not know that I speak and understand three languages: English, Korean, and Spanish. I am also certified and licensed in pharmacy from University of Illinois Chicago; phlebotomy and medical lab from College of Lake County; and I have a minor in hospitality from Moraine Valley Community College.
I'm a native of the Chicago suburbs. In my free time, I like spending time with my niece and nephew, shopping, and I love the scent of a crisp rainfall.
---
Gloria
Sterilization Coordinator
I am the newest member of Forever Smiles. I have spent the last couple years in both medical and automotive industry. I have decided to transition my skills into orthodontics, and I'm confident that I will add value to such an already atmosphere! I am first generation in the states, but my parents are from Poland. I speak 100% polish, and attended polish school for 9 years. In my free time I love to spend time with family and my boyfriend Omar, with our 2 cats, Snoopy and Xona.
---
Delia
Orthodontic Assistant
I have worked in Dr. Razdolsky's office since July 2012. My background is in working with adults with developmental disabilities, but I've always known that I wanted to work in the dental field. I am very excited to be working with Dr. Razdolsky and his team because of the inviting atmosphere, level of professionalism, and skills being delivered to each patient. Being able to work with such a well-known and respected orthodontist as Dr. Razdolsky is truly a privilege.
I'm originally from Romania, but I have lived in Chicago as a child and I just recently moved back to the area after living in Arizona for ten years. I am fluent in English and Romanian. In my spare time, I love to shop, travel, and discover new places in the city.
---
Dr. Bismarck
Orthodontic Assistant
I have been a part of Dr. Razdolsky's Forever Smiles Team since 2000. I have a Doctorate of Dental Science from La Universidad Autonomía de Nuevo Leon, Mexico. I have been in the dental field since 1980. I enjoy the great family atmosphere and being part of the team.
I am originally from Los Mochis, Sinaloa, Mexico, and speak Spanish fluently. In my free time, I enjoy biking, reading, and spending time with my family and friends. You might also like to know that I love photography!
---
Ivana
Financial Coordinator
I recently received my Associates in Arts and started at Forever Smiles on the 11th of October in 2021. I am the Financial Coordinator in the office, helping out with whatever needs to be done and supporting my coworkers. I help with the schedule, but I mostly handle insurance and payments.
I dabble in drawing a realistic manga-like style of different characters from multiple pieces of media. I've made a regular hobby in writing creatively crafted stories with unexpected twists and interesting concepts that personally interest me. My free time is mostly spent on video games, how they're made, the story behind them, the continuing sagas, and my own playthroughs of some titles.
---
Alison
Scheduling Coordinator
I have been a part of Dr. Razdolsky's team since October of 2021. I have my Associates Degree in Applied Sciences, and I am also a Certified Nursing Assistant. I love being a part of Dr. Razdolsky's team because everyone is so committed to giving every single patient their forever smile with the latest technology in a fun, upbeat environment. You will find me upfront helping you schedule your appointment in a timely manner and answering phone calls.
In my free time you will find me outside in my garden, spending time with my nieces and nephews, or cuddled up with my animals reading. I especially love winter, as I am an avid snowmobile rider.
---