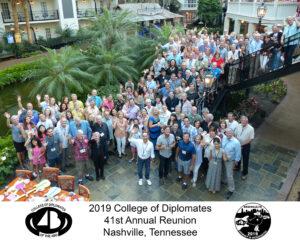 Doctor and Anna Razdolsky attended the College Council – ABO Board Joint Meeting in Nashville, July 12 through the 15. The four-day symposium afforded board-certified orthodontists like Dr. Razdolsky the opportunity to hear lectures on a number of fascinating topics.
Titled, Harmony in Orthodontics the event focused on the art of creating an esthetic combination of facial structures similar to the way musical harmony involves an esthetic blend of tones. Nashville seemed the ideal venue to discuss harmony as the city is surrounded by music. In all, this was a fully packed program with a lot to offer the analytical mind of Dr. Razdolsky.
In one presentation Dr. Razdolsky and guests were reminded how 3D imaging produces the most accurate representation possible to a patient's anatomy and the anatomical pathway in how to best treat that unique patient through the use of "markers."
"Cone beam imaging significantly improves the diagnostic value and treatment of orthodontic patients," said Dr. Razdolsky. "These technologies have vastly improved our ability to develop treatment options, monitor changes over time and better predict outcomes. We have detailed images with anatomical landmarks which provide the most accurate representation possible of not only where the patient is in development, but what and how we need to provide treatment to get them where they should be," he added.
In another program, Dr. Razdolsky said the lecturer discussed with attendees how patient scheduling and managing wire sequencing can help accelerate treatment. He said the sharing and discussion of these types of techniques and the accessibility of interaction with world-class lecturers along with fellowship with other orthodontists make events like this onto somewhat of an international study club. It is this association, with the finest orthodontists in the world that ensures that together they are all upping their game.
"Often parents do not understand something as simple as why we schedule patients earlier, later and often at different intervals than perhaps their siblings or their children's friends," said Dr. Razdolsky. "We have learned through the sharing of case studies like this that depending on patient and course of treatment, sometimes something such as switching out the wires used in orthodontic treatment through a different prescribed way can help cause movement more rapidly and aid in better or faster outcome."
Indeed, programs like this can not only improve results, but can significantly elevate comfort for the patient. These seminars do truly afford our Forever Smiles patients benefits from a consortium of world-renown and board-certified experts in the business of creating beautiful smiles.