Once a member of the Forever Smiles family, you are always a part of us. This is not only true for patients, but for team members as well. We follow our forever family's lives beyond their time with us -- sharing in their joys, experiences and even reach out in support when they are in need.
For those of you who do not know him, we would like to introduce you to Dr. Kapil Vij. Dr. Vij was a part of our Forever Smiles Grayslake family from 2007 to 2010. Dr. Vij was diagnosed earlier this year with myelofibrosis, a rare form of blood cancer. His bone marrow is unable to produce red blood cells, so he requires a blood transfusion every two to three weeks. With his condition deteriorating very quickly his only chance of beating this disease is to have a stem cell transplant. His siblings tested in hopes of being a match and giving him a second chance at life, but neither were close enough to be his donor.
"Dr. Vij is a wonderful doctor, and has an incredible rapport with patients," said Dr. Yan Razdolsky. "As part of our team, he was a vigilant partner in assuring our patients were treated with the upmost care and compassion. This is why it is so important that he finds a donor to help save his life. He is a big part of our family," he added.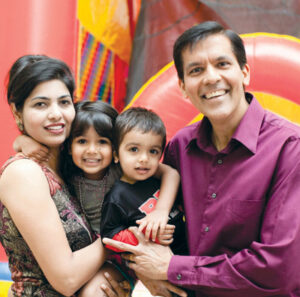 Today, Dr. Vij practices pediatric dentistry in Mount Prospect. He lives with his amazing wife Neeru, their two beautiful children and a third on the way. Although he is no longer with Forever Smiles, we have continued to follow his career and more recently have learned of this plea to help save his life.
"We understand this has become quite urgent as his hemoglobin is dropping pretty fast despite blood transfusions," said Dr. Razdolsky. "The entire dental community is reaching out to increase awareness of his plight, and we too want to do our part."
According to Be The Match Registry posts, Dr. Vij is of South Asian (Indian) descent, and the pool of people from that ethnicity are underrepresented in the national bone marrow registry, making the need for others to join the registry vital.
The process of bone marrow donation has changed in recent years and in some cases only requires a partial blood donation from which stem cells can be collected. While this may sound scary, it's very safe and truly a gift of life.
Qualified potential donors, ages 18-44, can learn more and register for the national marrow donor program online by visiting https://join.bethematch.org/HOPE4KAPIL. For anyone over the age of 45 and still wants to be a donor, we should let them know they can register with DKMS at dkms.org. Kits will be sent to their home, where they can swab and mail back. There are also several upcoming Be The Match registration drives in the Chicago area. Visit Facebook.com/HOPE4KAPIL for more information.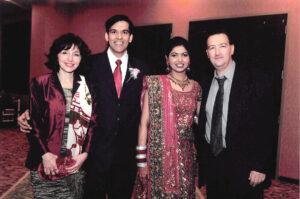 #   #   #