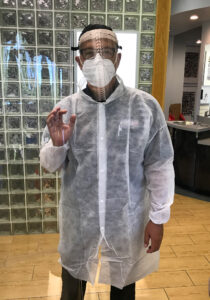 Boy have we missed our patients, missed each other and missed what we were wired to do. It is so nice to be back in a full swing again and feeling great!
Like all of you, we look back on the last few months and are like…. WOW! Who would have thought something like this would come out of left field and have such a tremendous impact on our communities, families and way of life. Overnight our routines changed, and we began to question everything we've ever done and how we've done it -- running a business, going to work, school, being with friends and even straightening our teeth.
Like most people in our industry, your Forever Smiles family had to hunker down and weather the storm all the while knowing that the health of our patients comes first and their treatment and progress must take a back seat. It was hard. But instead of what some called "downtime," we chose to use our time proactively, to get prepared. We organized our office, cleaned, finished up some long overdue projects, cleaned, attended webinars, collaborated with our peers to establish guidelines for reopening, then cleaned again. All this preparedness really put into perspective the importance we have always and will always place in the safety and well-being of our patients. Indeed, when our City and State leaders gave us the green light to reopen, we were prepared and ready.
We have always been proud that we go above and beyond when it comes to the treatment and care of our patients, and because it's important, we would like to re-visit just a few of the protocols we have implemented.
New hygiene protocols including hand disinfecting, additional PPE, as well as internal cleaning and sterilization of team uniforms.
Added autoclave to double sterilization efforts for tools and instruments used.
Partitioning our open-bay clinic with plastic walls as a protective barrier, as well as ventilating all rooms with an iWave-R Ionizing Air Purifier and Novareus Plasma Technology air purifiers throughout the office.
In addition to cleaning and sterilization of rooms after each patient visit, we are fogging the office twice daily with HOCl, a hospital-grade disinfectant comprised of electrolyzed salt, water and vinegar that kills 99.9% germs, yet is non-toxic and 100% safe.
Implementation of new office procedures including check in, restrictions on the number of office occupants, as well as screening to limit patient's exposure to Covid-19.
For a comprehensive breakdown of all the notable procedures and policies we put into practice here at Forever Smiles, please visit our website at https://www.razdolsky.com/blog. In addition, Dr. Razdolsky created several short videos showcasing some remarkable advancements borne out of Covid-19, such as the Novel suction attachment we are using which helps vacuum aerosols during treatment to protect our environment and keep patients safe. You can find these videos posted to our YouTube channel at https://www.youtube.com/Razdolsky1.
While we will continue to look to our governing bodies including the federal government, public health agencies, dental and orthodontic associations for guidance, we plan to strictly adhere to our own current protocols and procedures for the foreseeable future. The truth is, what seems "the New Normal" today will invariably not be what it will be next month, which will in turn be different in the next 6 months, or even next year. No one really knows what to expect with Covid-19, or any health-related issue going forward. We all see things differently now. But whatever the future brings, rest assured we will always do everything we can to still provide the best care and patient experience in a safe, healthy environment.
On a personal note, your family here at Forever Smiles would like to thank all of you for your understanding and patience over recent months and with all of the changes we've implemented moving forward. With all of us doing our part, the path into our future can be considerate of what serves everyone in our community best. We welcome your input and invite you to be a part of the solution. Without all of you, there wouldn't be a Forever Smiles, and it is because of you we will be forever grateful. Let's all be well and have a fantastic summer!