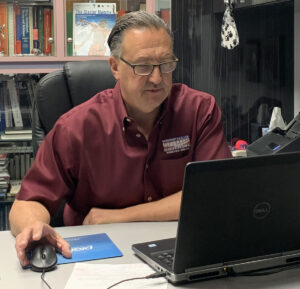 With Covid-19 having impacted us all so much, it is with great effort that our teachers work to apply a sense of balance to the lives of students. Such was the case when Diane Willock, Career Exploration Program Manager at Stevenson High School hosted a Virtual Career Exploration featuring our own Dr. Razdolsky and daughter Elizabeth.
In this educational online forum presented through Zoom, Dr. Razdolsky introduced students to the wide scope of orthodontic services, including the tools, instruments and emerging technologies used in treatment, as well as general career advice and resources for students interested in a career in orthodontics. The teleprogram also included a Q&A where Dr. Elizabeth talked with students about her PhD research and how students can make their academic applications stronger.
"Our goal was to overview for students the art, science and educational requirements behind this fascinating and challenging field," said Dr. Razdolsky. "We have offered similar programs to students previously, but none have ever felt quite so profound as was one offered given our current circumstances."
With all of Illinois under quarantine, the delivery format of programs such as this have certainly presented a whole new perspective. As Governor Pritzker has issued a 'Shelter in Place' order the office has suspended all but emergency cases.
"Our number one priority is for everyone to stay safe as we face the COVID-19 pandemic together," said Dr. Razdolsky. "But we believe it is still important to remind our students, patients and families that their treatment and oral health are still vital to their overall health even in times like these."
It is the mission of Forever Smiles to Inspire, Innovate, Create, Restore, and to make a difference in the communities they serve. For Dr. Razdolsky and Elizabeth, helping teachers and students through online education is a natural course of action in times like these.
Career Exploration Program Manager, Whitlock agrees. "I wanted to take a moment to send you a big THANK YOU for participating in our remote career exploration experiences last week! I was very pleased with how smooth everything went and how much great information was shared with our students," said Whitlock. "This truly was such an invaluable resource that you provided for them. It has been a challenging time for all of us and I felt like these sessions helped create some normalcy in our high school student's lives." She added.