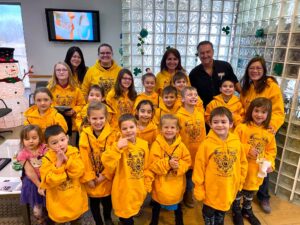 Dr. Yan Razdolsky and Forever Smiles team just love hosting educational field trips, especially when it's the talented artists from their favorite Art Studio Artishock!
At this year's field trip our budding artists saw firsthand how art and dental science come together to help Dr. Razdolsky and his team create beautiful Forever Smiles! The kids even watched how Dr. Razdolsky uses the technology of Suresmile to bend archwires for greater precision in treatment. The team educated the kids with a little chemistry lesson as they made their own "Smile Like A Pro" lip balm, Anna educated the children on the importance of oral health with a reading of her book, "The Smiling Brightleys," and every child got their very own copy to take home and share with their family and friends.
"This field trip is something we look forward to every year," said Anna Razdolsky. "We are so grateful to all the parents who also attend, and to CEO/Teacher Talia Prilutsky. Events like this expose so many kids to orthodontics early, allowing them to feel comfortable and be better prepared if and when they have their first orthodontic appointment," she added.
Yes, Dr. Razdolsky, Anna and the team really love educating kids and teaching them the fundamentals of good oral care and how it leads to a lifetime of beautiful Forever Smiles!